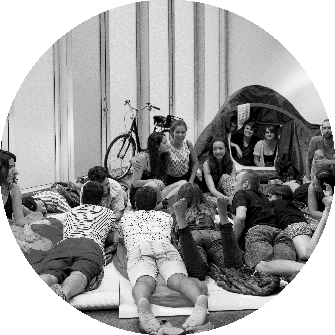 Los jóvenes se hacen con el museo. Pedagogías del empoderamiento
Resumen
Este análisis se centra en el proyecto pedagógico Circuit. Desarrollado por el museo londinense Tate y destinado a los jóvenes, se inscribe dentro de las metodologías de la liberación que subvierten el marco referencial clásico maestro-estudiante y suponen una apertura del canon sustentado por el museo. Esta apertura de estructuras y modelos pedagógicos debe entenderse dentro de un marco general que se infiltra en otras áreas del museo de arte, como en los departamentos curatoriales donde se le conoce como educational turn. Estas nuevas dinámicas —que en el ámbito nacional se ven en los proyectos Equipo Sub21 en el CA2M y Departamento Exotérico en el MACBA— permiten a su vez incidir en el carácter también económico que sustentan estas aperturas hacia afuera de la institución.
Palabras clave
Pedagogía de la liberación; Jóvenes; Participación; Educational turn; Museo de arte; Mercado
Referencias
BIBLIOGRAFÍA
• DUFFY, Stella Duffy. «A gallery without no pictures – why not?», The Guardian, 24 de septiembre, 2015, acceso vía web: http://www.theguardian.com/commentisfree/2015/sep/24/galleries-art-fun-palace-joan-littlewood 1 de noviembre de 2015
• FEHER, Michel. Barcelona: Radio del MACBA, Sonia, #215, 15 de octubre de 2015. Disponible en Internet: https://rwm.macba.cat/ca/sonia/michel-feher-2/capsula,. Acceso en julio de 2018
• FREIRE, Paulo. Pedagogía del oprimido.
• FREIRE, Paulo. Pedagogía de la esperanza. Un reencuentro con la pedagogía del oprimido. México: Siglo XXI, 2002 (primera edición 1993)
• GIELEN, Pascal. Institutional Imagination Instituting Contemporary Art Minus the Contemporary. Amsterdam: Valiz, 2013, p 29
• GRAHAM, Janna. «Spanners in the Spectacle: Radical Research at the Front Lines». Fuse Magazine. 1 de abril, 2010. Disponible en la web: http://www.kultur-vermittlung.ch/zeit-fuer-vermittlung/download/materialpool/MFV0303.pdf Acceso el 3 de noviembre de 2015
• GROYS, Boris. «Beyond Diversity: Cultural Studies and Its Postcommunist Other», Democracy Unrealized. Documenta 11_Platform 1, Germany: Hatje Cantz, 2002
• MONTERO, Javier Rodrigo, Transductores, Los museos como espacios de mediación: políticas culturales, estructuras y condiciones para la colaboración sostenible en contextos. 2013
• MÖRSCH, Carmen. «Alliances for Unlearning: On Gallery Education and Institutions of Critique», London: Afterall Journal nº 26, Spring 2011, p 3
• MOUFFE, Chantal. «Institutions as Sites of Agonistic Intervention», in Instittuional Attitudes. Instituing Art in a Flat World. Amsterdam: Valiz Antennae, 2013
• RANCIÈRE, Jacques. El maestro ignorante. Estrach, Núria (trad.). Barcelona: Laertes, 2002. ISBN: 84-7584-504-5. p 41
• RANCIÈRE, Jacques. El espectador emancipado. Buenos Aires: Bordes Manantial, 2010, 136p. ISBN: 978-987-500-137-4. p. 18
• ROGOFF, Irit. «Education Actualized» 2010: e-flux journal #14, marzo 2010
• ROGOFF, Irit. «Turning» 2008: e-flux journal #0, noviembre 2008
• O'NEILL, Paul. The Culture of Curating and the Curating of Culture(s). Cambridge MA and London: The MIT Press, 2012.
• Tate Report 2014/15, Tate, London, 2015
• «What, How for Whom (WHW): The Politicization of Culture, or the Dramatization of a Curatorial Position» ArtPapers, 2010, Atlanta Art Papers, Inc, Mr/Ap 2010 p. 26-31, ISSN: 0278-1441
• Circuit website: https://circuit.tate.org.uk
• Tate Learn: http://www.tate.org.uk/learn, acceso vía web, 26 diciembre 2015
• Tate website: www.tate.org.uk
• Test. Risk. Change, London: Tate and Paul Hamlyn Foundation, pag. 57
• Equipo Sub21: http://ca2m.org/es/jovenes/equipo-sub21
• Tumblr de Equipo Sub21: http://sub21ca2m.tumblr.com/ Recoge entradas desde noviembre de 2014 hasta noviembre de 2017. Acceso julio 2018
• Departamento Exotérico: https://www.macba.cat/es/departamento-exoterico-2018 and https://www.macba.cat/es/uni-departamento-exoterico#tab-general
• «Experiencia de Jordi Ferreiro y Yolanda Jolis, del Museu d'Art Contemporani de Barcelona, dentro del 3er Congreso Internacional» en Los Museos en la educación. Madrid: Área de Educación del Museo Thyssen-Bornemisza, noviembre de 2016 por el. Disponible en Internet: https://www.youtube.com/watch?v=gAiXV_Z5mb8 Acceso julio 2018
DOI:
https://doi.org/10.14198/i2.2018.6.2.10
Copyright (c) 2018 María Montero Sierra

Este obra está bajo una
licencia de Creative Commons Reconocimiento 4.0 Internacional
.