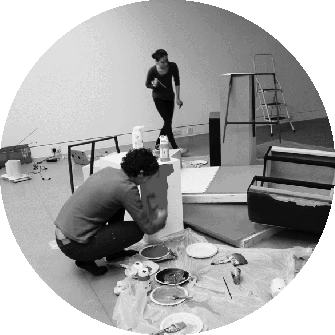 La Educación Artística en la Edad de la Métrica. Una exposición crítica sobre como aprendemos y enseñamos arte bajo el neoliberalismo
Resumen
El sector de la educación universitaria en el Reino Unido se encuentra inmerso en una cultura del dato que evalúa todos los aspectos de la vida universitaria en relación a un paradigma métrico. La educación artística, un área con sus propias características de enseñanza y aprendizaje, está especialmente en contradicción con un modelo que favorece la eficacia, la productividad y el éxito por encima de cualquier otro aspecto. En este artículo describo una exposición, La Educación Artística en la Edad de la Métrica, que tuvo lugar en 2017 en la sala de exposiciones de una universidad especializada localizada en la ciudad de Canterbury. Se trató de un proyecto curatorial que en vez de simplemente representar las dificultades de la enseñanza artística en el momento actual, a través de la participación de la comunidad universitaria—especialmente de los estudiantes—en el proceso de la organización de la exposición, intentó intervenir activamente en los debates acerca del impacto de este modelo neoliberal en cómo enseñamos y aprendemos arte hoy.
Palabras clave
Neoliberal; Educación artística; Universidades; Métrica; Exposición
Referencias
BFAMFAPHF. Artists Report Back. A National Study on the Lives of Arts Graduates and Working Artists [online]. 2014 [accessed 16 July, 2018]. Available from:
http://bfamfaphd.com/wp-content/uploads/2016/05/BFAMFAPhD_ArtistsReportBack2014-10.pdf
FRESH NEW ANXIETIES. "Dialogues with Spring Lambs (25-05-17)." IN: BRASÓ, Emma (curator). Art Education in the Age of Metrics. Canterbury: University for the Creative Arts, 2017. p.12-19, [accessed 17 July, 2018]. Available from: https://www.academia.edu/33980953/Art_Education_in_the_Age_of_Metrics.
GIELEN, Pascal; DE BRUYNE, Paul (eds.), Teaching Art in the Neoliberal Realm. Realism versus Cyni-cism, Amsterdam: Valiz, 2012.
HASTE, David. The Art Schools of Kent. London: Werther Press, 2013.
HOUGHTON, Nicholas. Fine Art Pedagogy After Modernism: A Case Study of Two Pioneering Art Schools [online]. N.d. [accessed 12 February 2017]. Available from: http://www.academia.edu/18136025/Fine_Art_Pedagogy_After_Modernism_a_case_study_of_two_pioneering_art_schools.
ROGOFF, Irit. "The Expanded Field." IN: MARTINON, Jean-Paul (ed.). The Curatorial. A Philosophy of Curating. London: Bloomsbury Academic, 2013. p. 41-48.
SHEENA, Tara. "At a University Museum, an Exhibition Examines Student Debt" [online]. Hyperaller-gic, March 2015 [accessed 16 July, 2018]. Available from:
https://hyperallergic.com/189766/at-a-university-museum-an-exhibition-examines-student-debt/.
STERNFELD Nora; ZIAJA, Luisa. "What Comes After the Show? On Post-Representational Curating," [online]. oncurating.org 14, 2012 [ accessed 6 February, 2017]. Available from:
http://www.on-curating.org/files/oc/dateiverwaltung/old%20Issues/ONCURATING_Issue14.pdf
The Guardian. University Guide 2017: League Table for Art [online]. 23 May, 2016 [accessed March 2017]. Available from:
https://www.theguardian.com/education/ng-interactive/2016/may/23/university-guide-2017-league-table-for-art.
University for the Creative Arts. History & Heritage [online]. 2017 [accessed 17 July 2108]. Available from: https://www.uca.ac.uk/about-us/history-heritage/.
DOI:
https://doi.org/10.14198/i2.2018.6.2.07
Copyright (c) 2018

Este obra está bajo una
licencia de Creative Commons Reconocimiento-NoComercial 4.0 Internacional
.